NVDs are required for any movement of stock – to processors, to saleyards or between properties because they have different PICs.
Updated NVD Information, November 2020
Updated versions of LPA NVDs for all species are now available, identified by version number 0720.
Previously accepted versions of NVDs for all species: cattle (C0413), EU-cattle (E0413), sheep & lambs(S0413), goats(G0517) and bobby calves(BC0412) will continue to be accepted until 31 December 2020. 
From January 1 2021, only the updated versions of all NVDs (0720) will be accepted for all species.
You can oder the new NVD (0720) now, via your LPA Account.
As part of the MLA Accelerated Adoption Initiative announced in November 2019, there is no cost for NVD books until 30 June 2021.
New LPA eNVD
A new mobile-friendly, more user-centric version of the eNVD system is now available for LPA accredited producers, feedlots and value chain stakeholders to use.
Why use the new LPA eNVD?
Fast, easy and more accurate than paper forms
Ensures the latest versions of the NVD are being used and meet market requirements
Reduces time and duplication spent completing livestock assurance and health declarations
Reduces the cost of storing and retrieving historical consignments for auditing, reporting and administrative purposes
You don't need to wait for new NVD books to arrive, and stakeholders in the supply chain can log in and view consignments, including receivers
Access LPA ENVDs                                            What's new in. ENVDs
---
NVDs are subject to on-going audits from Abattoirs and Meat Processors. They have provided us with a few guidelines for completing the NVD correctly. The NVDs are a legal document and particular care must be taken when completing them.
ALPA LIVESTOCK TERMS & CONDITIONS FEB2017
LPA CHANGES NOTICE
NVD CHECK LIST
PRIOR TO MOVEMENT OF CATTLE:
You need a PIC

What is a PIC?
PIC (Property Identification Code) is a unique eight-character alpha and number assigned by Local Land Services to properties with livestock. This property registration system allows for the tracing of livestock to assist with disease and chemical residue management.
Having a registered PIC is a requirement in NSW for owners of livestock such as cattle, sheep, goats and pigs to have a Property Identification Code (PIC) when trading or moving these livestock.
If you do not have a PIC? Fill out this form and return to your Local Lands and Services:  http://www.lls.nsw.gov.au/__data/assets/pdf_file/0014/503123/PIC-application-form.pdf
For more information:  Call 1300 795 299 or visit  http://www.lls.nsw.gov.au/livestock/pics
Register with the LPA
You will have to call the LPA 1800 683 111 to organise buying your NVD book or EDEC's (The new online form of NVD's that will soon be the means of selling your cattle).
It is recommended that you buy EDEC's rather than the books as keeping up with the progression of improvements of selling livestock.
Once you have called the LPA and brought your NVD's you will obtain your login details that will allow you to access future buying of books or EDEC's
https://lpa.nlis.com.au/Account/Login?ReturnUrl=%2F
Buying NLIS tags:
The National Livestock Identification System (NLIS), Australia's scheme for the identification and tracking of livestock, has been introduced in NSW.
All movements of livestock between properties with different Property Identification Codes (PICs) must be notified to the NLIS database and all livestock identified.
(R&S is able to do transfers on your behalf when provided with the necessary information).
You can buy NLIS tags from your local produce store.
SELLING YOUR LIVESTOCK
It is the LAW to tag all livestock and fill in your NVD correctly and completely.
If you have an NVD book take note of the code on the top middle of the form. It must be CO413. If you do not have this correct form please refer back to question 2 above

This National Vendor Declaration/Waybill is a declaration by the producer (you) regarding the food safety status for livestock being sold. This is also a legal document for the transportation of livestock.
Make sure the NVD/Waybill is correct, neatly written, fully completed and must accompany your livestock to the saleyards.
PLEASE ENSURE:
A full description of stock e.g. Bullocks, Steers, Heifers, Cow, Cows and calves.
Breeds must be described in full.
Number of stock per description.
Number of head with tags and boluses.
Consigned to:
RICHARDSON AND SINCLAIR
46 WINGEWARRA ST
DUBBO NSW 2830
DUBBO SALEYARDS
2 Boothenba Rd
Dubbo NSW 2830
Complete ALL answers 1-9
Taking note of each answer carefully for example
Q1- HGP Free Y/N
Q7- With holding period of cattle- Have you treated your cattle with anything lately?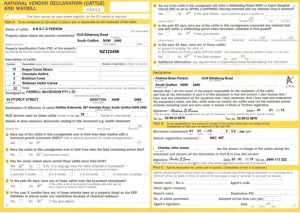 HAVE YOU BROUGHT YOUR CATTLE PRIVATELY PRIOR TO THIS SALE?
Have you transferred all you RFID's to you own PIC?
This must be done so a "Lifetime Traceable" is able to be done at the saleyards once the cattle are sold and scanned.
If your cattle are not transferred to your PIC at time of sale an alert may be raised of stolen cattle.
Login to your LPA Account and transfer your cattle: https://lpa.nlis.com.au/Account/Login?ReturnUrl=%2F
NLIS TAGS: Each beast must have a NLIS tag to be sold. If your Beast does not have an NLIS tag at time of sale it will be issued with an emergency tag which will be charged out at $33/hd. Refer to Q3 in prior to movement of cattle on how to purchase NLIS tags.